The Ancestors Of Phil Parkinson

My primary focus is on my Parkinson ancestors that lived in Lincolnshire County, England. The following is my starting point. If anyone has any information or knows of anyone who may be of assistance, please e-mail me.

Parkinson Coat of Arms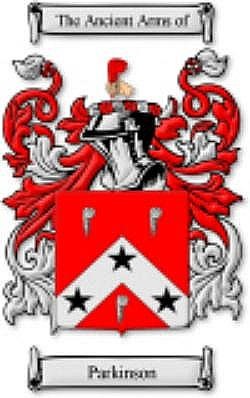 Thomas Parkinson

I am looking for information regarding Thomas PARKINSON and wife Hannah RHODES and their family in the Lincolnshire England region. I would like to get info on the siblings other then Thomas Jr., who is my ggg grandfather, since I have all of his stuff.

Any info on Thomas Sr. and his parents, brothers or sisters would be great as well.

Here is what I have as follows: Barrow parish registers, The marriage of Thomas PARKINSON and Hannah RHODES - Entry no. 143. Thomas PARKINSON of Barrow and Hannah RHODES of Bigby married on 18 May 1807 Barrow by Banns.

Witnesses: Ann RHODES & James PARKINSON.

Children of Thomas and Hannah PARKINSON - all baptised Barrow upon Humber:

Child's Name
Date of
Birth/
Baptism

Date of
Death/
Burial

Relates
to Phil
Parkinson
James
07 Apr 1808
Elisabeth
29 Oct 1809
Thomas
25 Nov 1810
ggg g
father
Mary
04 Apr 1813
Joseph
28 May 1815
Matthew
12 Jun 1817
Ann
07 Apr 1820
Samuel
30 Jun 1823
03 May 1824
Source: Kathy Perkins, England

Any info would be greatly appreciated. Alernatively, if you need any further info about Thomas Jr. and descendants. I will be glad to provide the info.

Matthew Parkinson

Fortunately, I have been able to obtain some info on Matthew and his family, which is as follows:

Descendants of Mathew Parkinson

Generation No. 1

1. MATHEW7 PARKINSON (THOMAS6, THOMAS5, THOMAS4, JAMES3, THOMAS2, THOMAS1)1 was born 12 June 1817 in Barrow on Humber, Lincoln, England, and died Abt. 3 June 1888 in Barrow Upon Humber, Lincoln, England1. He married MARY DANN1 Abt. September 1843 in Barrow Upon Humber, Lincoln, England1, daughter of JOHN DANN and JANE PLASKITT. She was born 6 October 1817 in Grasby, Lincoln, England, and died Abt. April 1883 in Barrow on Humber, Lincoln, England.


More About MATHEW PARKINSON:

Burial: 5 June 1888, Barrow Upon Humber, Lincoln, England1

Census 1881: 31 March 1881, Lords Lane, Barrow on Humber, Lincoln, England

Christening: 12 June 1817, Barrow on Humber, Lincoln, EnglandMore About MARY DANN:

Burial: 16 April 1883, Holy Trinity, Barrow on Humber, Lincoln, England


More About MARY DANN:

Burial: 16 April 1883, Holy Trinity, Barrow on Humber, Lincoln, England

Children of MATHEW PARKINSON and MARY DANN are:

i. ELIZABETH8 PARKINSON, b. Abt. 1846, Barrow on Humber, Lincoln, England; d. Abt. March 1887, Barrow on Humber, Lincoln, England.

Notes for ELIZABETH PARKINSON:

aged about 25 at christening


More About ELIZABETH PARKINSON:

Burial: 26 March 1887, Holy Trinity, Barrow on Humber, Lincoln, England

Christening: 18 March 1871, Barrow on Humber, Lincoln, England

ii. ELIZA LAVINIA PARKINSON, b. Abt. 1856; m. JOSHUA PARKIN, 31 December 1887, Barrow on Humber, Lincoln, England; b. Abt. 1849, Doncaster York England.


More About ELIZA LAVINIA PARKINSON:

Christening: 18 March 1871, Barrow on Humber, Lincoln, England

iii. EMILY JANE PARKINSON, b. Abt. February 1873, Barrow on Humber, Lincoln, England.


More About EMILY JANE PARKINSON:

Christening: 7 March 1873, Barrow on Humber, Lincoln, England

Source: Alan Boon - Australia